The historical quarterly Groniek has developed itself in the last four decades since it's founding from a simple 'school paper' into a serious scientific magazine with (inter)national reputation. Groniek is edited by history students from the State University of Groningen. A wide range of historical issues is covered by prominent historians from both the Netherlands and abroad, like Quentin Skinner and Hayden White. More about Groniek… 
On the right you see the most recent announcement concerning Groniek and/or historical science in general. Below you can see the most recent issue of our journal.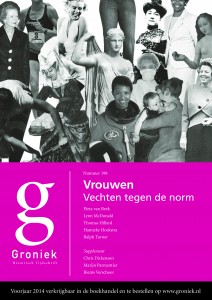 (Nederlands) 198 | Vrouwen: Vechten tegen de norm
(Nederlands) In Groniek 198 komen vijf opmerkelijke vrouwen van nul tot nu aan bod. Elk van hen brak met haar tijdgeest door een sociale positie in te nemen die destijds onmogelijk werd geacht.
Read more…
Het nieuwe nummer ligt in de boekhandels maar is ook online te bestellen..